If you were expect­ing a savory fall poul­try recipe from read­ing this post title, you'll be dis­ap­pointed! You can't eat these chick­ens because they're pets. And you can't eat this sage, because it's orna­men­tal. (Okay, the flow­ers of the stun­ning salvia ele­gans—pineap­ple sage—are edi­ble.)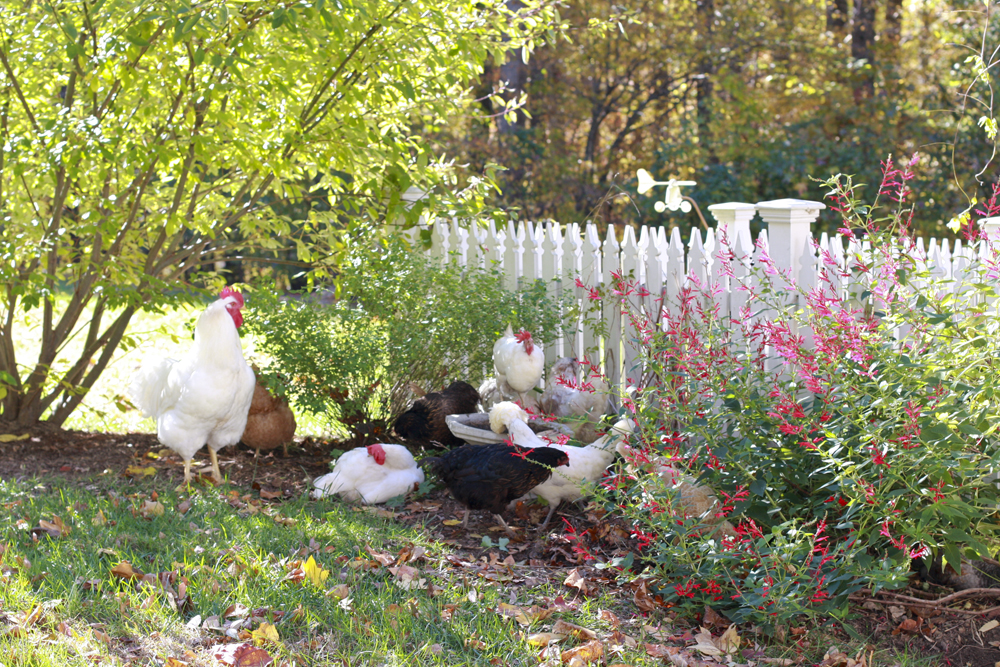 As I was giv­ing the chick­ens fresh water this morn­ing they were kick­ing up such a fuss about the fact that they didn't get their after­noon walk­a­bout yes­ter­day that I opened the gate so they could have extra time wan­der­ing the yard and gar­dens. Fall is one of their favorite times of year, I think, because there is such adven­ture search­ing for bugs under every fallen leaf. I am also less prone to shoo them away from areas of the gar­den that I don't want them scratch­ing in since the gar­den is largely dev­as­tated by fall already. What harm is a lit­tle bit of chicken for­ag­ing going to do?
The chick­ens did seem to tire of their bug hunt­ing adven­tures early though because I caught them con­gre­gat­ing near one of the bird baths for a mid-day snooze. As you can see though, T. Boone Chick­ens is still guard­ing his girls.
He'll have some help with the guard duty soon though. As it turns out, my instincts on the gen­der of Edith's baby were cor­rect. Baby is a rooster and is now learn­ing to crow. He is now called Ricky since he is clearly not a Lucy.
Robin