I never really under­stood the inter­est in grow­ing mon­ster veg­eta­bles to see how big they can get. To me, the point of veg­etable grow­ing is to eat the things. But more often than not once a veg­etable reaches gigan­tic pro­por­tions it is no longer edible.
But per­haps it's akin to my fas­ci­na­tion with  sun­flow­ers. I have grown short, bouquet-worthy sun­flow­ers. I have grown stun­ning, nearly black sun­flow­ers. I have grown dainty sun­flow­ers. But what I really adore is a colos­sal sun­flower. Tow­er­ing sun­flow­ers. The kind of sun­flow­ers that makes vis­i­tors stop and say, "Is that real?"
Until this year the tallest sun­flow­ers I have grown were Mam­moth. They grew to about 8 or 9 feet, tow­er­ing over the rest of the garden.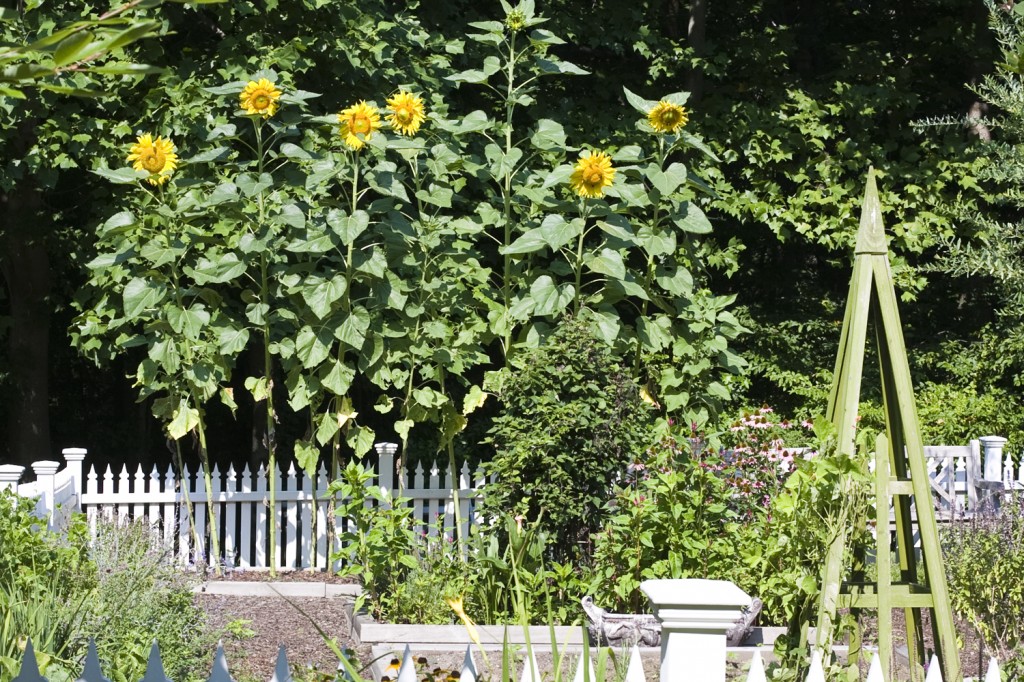 But this year I grew Titans—the biggest yet.  I mea­sured them this morn­ing at 12 feet tall.
Vis­i­tors ask me if they are staked because it seems so improb­a­ble that a flower on a sin­gle stem that tall could stand up with­out assis­tance. But the stalks are nearly as round as my wrist,  so they are stand­ing tall all on their own.
Now, what's big­ger than a Titan?
Robin